WordPress is the most popular content management system in the digital world. It is impossible for anyone to not have visited a single website that uses the WordPress platform. Like any website, WordPress is also subject to GDPR compliance. 
WordPress has adopted many changes to accommodate GDPR standards within its system. For example, updating the security and bringing more GDPR-centric settings. 
In this article, we will discuss some ways you can make your WordPress website GDPR compliant.
What is the General Data Protection Regulation (GDPR)?
The General Data Protection Regulation (GDPR) is a data privacy law passed by the European Parliament in April 2016. Its objective is to protect the personal data of people within the European Union (EU) and the European Economic Area (EEA) member states 
Any entity (organization or website), regardless of its location, that does business with EU people and collects and processes their personal data are subject to the GDPR. That means if a website has traffic from the EU and EEA and collects the personal data of these visitors, it has to comply with the GDPR.
The principles of GDPR are: 
Lawfulness, fairness, and transparency: Personal data should be processed lawfully, fairly, and transparently. you cannot process the persona data without a legal basis (consent is the most used basis for websites). you must disclose details about collecting and processing personal data to the users.

Purpose limitation: Data collected should only be processed for the defined purpose.

Data minimization: Do not collect data more than necessary for the defined purpose.

Accuracy: The data collected must be accurate and up to date. Inaccurate data should be deleted or corrected without delay.

Storage limitation: Do not store personal data longer than necessary.

Integrity and confidentiality (security): Store and process the data collected safely.

Accountability: Be responsible for complying with the GDPR and ready to take accountability for it.
The GDPR lawful basis for processing data are:
Explicit consent of users

Legitimate interest in the website's services

Legal obligation

Contractual obligation

Vital interest of another person

To fulfill a public task
The rights that GDPR grants to individuals are:
Right to be informed: the right to request an organization or website to disclose details about its data processing

Right to access: the right to access and receive a copy of the personal data collected

Right to rectify: the right to correct personal data in case of inaccuracy

Right to erase  or right to forget: the right to request organizations to delete the data

Right to restrict processing: the right to restrict the organization's data processing activities

Right to data transfer: the right to request to transfer data to another organization

Right to object: the right to object to the data processing activities

Automated decision-making and profiling: the right to object to automated decision-making based on the user profile
You can read the full text of the regulation here.
How to make your WordPress website GDPR compliant
Here are 9 ways you can make your WordPress website comply with the GDPR.
GDPR compliance for the web hosting provider
The data you store on the server system must be kept safe and you must take appropriate technical and organizational measures. If your website is hosted on a web server, you must make sure that its policies, agreements, and safety measures follow the GDPR standards. In short, choose a web hosting service that is GDPR compliant. 
Keep a record for auditing purposes
It would help you a lot if you keep a record of your data collection and other processes of handling data. Details such as:
the type of data you collect;

how you collect the data;

the purpose of data collection;

the storage of the data and the retention period;

the data you share with another party; and 

the safety measures to protect the data.
will help you understand what measures you have to take for complying with the GDPR. and keeping a record will help you to demonstrate the proof of compliance, in case of an audit.
Cookie consent notice for using cookies
According to GDPR, a website needs a cookie consent notice to inform its users about the cookies it uses. And, you cannot use non-necessary cookies that collect user data or do behavioral monitoring without the users' explicit consent. 
Therefore, you must first identify the type of cookie your website uses. This will help you to distinguish between the cookies that are necessary and do not need consent and the cookies that are non-necessary and may need consent. Then, you must add a cookie notice to ask the users' consent to use them. This cookie consent notice must provide adequate information about why you need to use the cookies so that the users can make an informed decision. 
Privacy policy for transparency
The  GDPR requires states that a website must be transparent about its data processing practices. It must disclose to ist users about 
the types of personal data it collects

the purpose of data collection

how it uses, stores, and shares the data

method to withdraw the user consent

how the users can exercise their data rights

How it protects the personal data
You can share this information on the privacy policy page of your website. WordPress's latest versions allow you to add a privacy policy page from its settings:
Go to Settings > Privacy
There is an option to create a privacy policy page.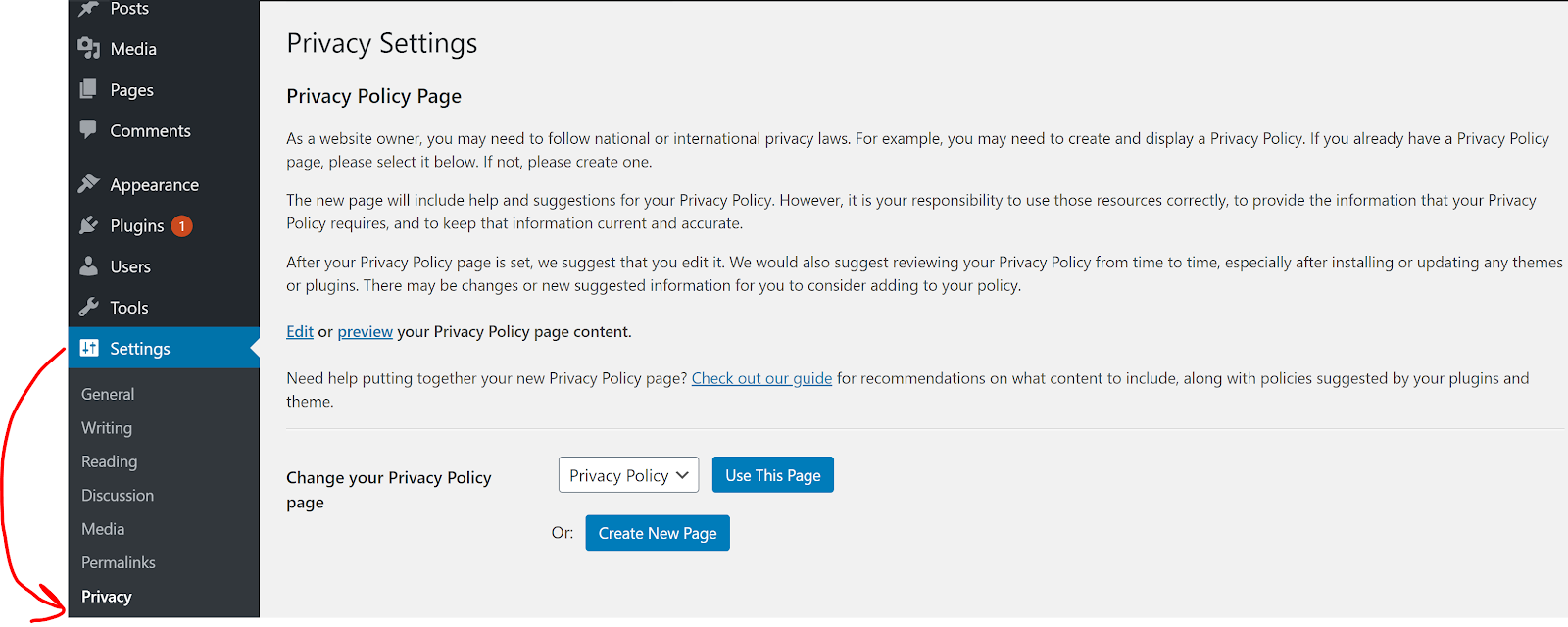 Or, you can use a free online privacy policy generator that will create generate the policy page with all relevant information in a few minutes. All you have to do is copy and paste the content to your website.
Consent checkboxes for data collection forms
Acquiring user consent is not limited to cookies. It extends to any data collection. If you use forms or any elements on the WordPress website to collect and process personal data, you must ask for consent. Consent checkboxes are useful to collect user consent. It is s simple method and effective too.
Add consent checkboxes that are not pre-ticked everywhere you require to collect data, especially on forms.
Double opt-in for an email subscription
Double opt-in is a verification method for the users' subscription by emailing them a verification link after they sign up for emails on your website.
Double opt-in ensures explicit consent from the users and helps to confirm the genuineness of the subscription.
Do not send an email without the users' consent, especially those related to marketing. And, you must provide a user-friendly opt-out or unsubscription option for them to withdraw the consent at any time.
Settings for exercising user rights
The GDPR rights granted to the people within the EU are one of the main elements of the Regulation. WordPress's latest versions provide settings to enable the users to submit requests to delete or export their personal data. 
 Go to Tools on the WordPress dashboard > Select Export Personal Data or Erase Personal Data
You have to add the email address to send the emails to the users to verify their request.
Additionally, you can use other measures to let people submit and then their requests to exercise the other rights.
Check agreement and policies of third-party tools
WordPress plugins and applications enhance its functionality by adding additional features or services to it. It gives you options that WordPress alone cannot do. 
However, these third-party plugins and applications must be thoroughly reviewed. You must ensure that their policy and agreements are aligned with GDPR requirements and they follow the Regulation. When adding such tools to your website, it needs to be checked if they will use the data collected via your website for any other purpose than mentioned. You must ensure that they have appropriate security measures to protect the data you share with them.
Measures for WordPress website security 
WordPress is a secure platform. However, you must also adopt various measures to keep the data safe. Especially the login security since WordPress lets the users create accounts.  There are various methods to do that.
The first step is to authenticate a website to protects the information shared by the sharing of information. 
Some other methods are end-to-end encryption, reCaptcha technique, strong passwords, limited login attempts, fraud login detection, and remote backups (with consent).
Weak security might result in data breaches. You must avoid it at any cost. However, you must be ready to deal with it in case it happens. Implement a system that will detect data breaches.  If the data breach risks the rights and freedom of the users, you must immediately inform the affected users and the supervisory authority. As per GDPR, you must inform the affected users and the authority within 72 hours of becoming aware of the breach. The breach report must have details of the breach and what you have done to mitigate the damages.
Wrapping up
These are some changes that you can make to your WordPress website for GDP compliance. However, this list will not guarantee full compliance. There are still many details on a technical or legal level that you may need to address. You must ensure all those things are taken care of. These steps will surely guide you to it.
If you have any questions or comments about WordPress GDPR compliance, please share them in the comments section below.